UzInvestigations is a civic initiative administered by Ulster University in partnership with the Uzbek Forum for Human Rights. Drawing on data science, investigative methodologies, and digital analytics, UzInvestigations produces resources and analysis, which help forensically scrutinise corporate and government power in Uzbekistan.  Our aim is to promote transparency, good governance, human rights, and civic engagement.
UzInvestigations operates two linked websites. UzInvestigations' "Corporate Spotlight" is a public database. It provides researchers, journalists, activists, and citizens, with access to a large-range of integrated data-sets that allow enhanced due diligence investigations to be conducted into companies, corporate personnel, and government decisions (see further readings for information on the methodology underpinning this project). UzInvestigations' "Bulletins" is a reporting and training platform. It publishes blogs, articles, reports, and policy briefs, that analyse the integrity of corporate actors and public agencies at the heart of economic and social life in Uzbekistan. Bulletins will also publish training resources designed to support data driven investigations.
UzInvestigations works with a range of media organisations to co-produce outstanding investigative reporting on Uzbekistan in multiple languages. This includes the Revizor multimedia series produced by Uzbek language media service, El-Tuz.
Co-founder, Ulster University has been awarded research grants by the Open Society Foundation and the National Endowment for Democracy, which have supported the generation of data-sets and investigative tools which are employed in Uzinvestigation reporting. No UzInvestigation report has been commissioned by an outside body. All reporting on this website is initiated, implemented and published, with full independence by the UzInvestigations Directors.
Professor Kristian Lasslett
Co-Director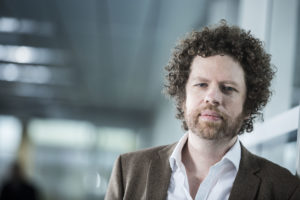 Kristian Lasslett is Professor of Criminology at Ulster University. He also sits on the Executive Board of the International State Crime Initiative, and is joint Editor-in-Chief of State Crime Journal.
Prof Lasslett completed his PhD in 2009, and in the same year took up an academic post in criminology at Ulster University. Since then he has become established as a leading authority in the areas of state crime, corporate crime, corruption, and investigative methodologies. To date, he has published two books, and a large range of articles in leading peer-reviewed journals.
He has produced a feature length documentary film (Ophir) and an online documentary mini-series (The Colonial Syndrome). He regularly publishes investigative articles in news media outlets including Open Democracy, The Guardian, and Al Jazeera, and has wide-ranging experiences of policy engagement in Europe, North America, Central Asia and the South Pacific.
Professor Lasslett is the recipient of the 2017 Research Impact Award (Ulster University), 2017 Justice Prize, and was a Finalist in the prestigious Times Higher Education Awards. He is Ulster University's 2017/2018 Distinguished Research Fellow.
Umida Niyazova
Co-Director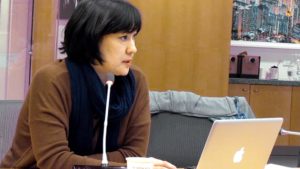 Umida Niyazova is an award-winning Uzbek journalist and human rights activist and director of the Berlin-based NGO Uzbek Forum for Human Rights (Uzbek Forum). She worked as a journalist and human rights advocate in Uzbekistan from 2000 – 2009 until she was forced to flee her country because of her human rights work. Umida has worked in the Tashkent offices of organizations such as Internews Network, the Center for Journalists in Extreme Situations and Freedom House.
In 2007 Umida Niyazova was arrested in Tashkent and sentenced to seven years' imprisonment on charges of the "production or distribution of materials that threaten public safety and public order" and for "smuggling extremist religious materials". After widespread protests and pressure from international organizations, she was finally released after 4 months in prison.
In September 2009, Umida left Uzbekistan and sought political asylum in Berlin where she founded the Uzbek Forum. The organization with its team of monitors inside Uzbekistan, have been carrying out detailed research, collecting witness testimonies and conducting advocacy on the issue of child and forced labour in the cotton sector of Uzbekistan for the past seven years.
She regularly takes part in policy meetings and round table discussions at the United Nations, the European Union and the International Labour Organization where the Uzbek Forum's documentation of abuses in Uzbekistan is widely cited and referred to.
Umida holds a degree in Electrical Science from Tashkent Technical University, a Diploma from The OSCE Academy for Journalism in Bishkek and has participated in the Helsinki Foundation's International Course on Human Rights in Warsaw.
In 2008, Human Rights Watch honoured Umida with its prestigious Human Rights Defender Award. In 2015 Umida had the privilege of accepting the International Labour Rights Forum's award for Labour Rights Defenders on behalf of prominent Uzbek activists. The Uzbek Forum for Human Rights was nominated for the Human Rights and Business award in 2018 and 2019.
Dilmira Matyakubova
Co-Director
Dilmira Matyakubova is an independent policy analyst and expert on post-Soviet Central Asia. She previously taught Citizenship and Critical Thinking at Westminster International University in Tashkent where she also worked as a Senior Academic Policy Officer providing expertise on governance and policy development.
She was a recent visiting fellow at the George Washington University's Central Asia Program. Dilmira has also worked as a Research Analyst at the Institute of European, Russian and Eurasian Studies where she helped developing projects focusing on Uzbekistan.
Dilmira has been conducting field research in Central Asia for nearly a decade. She writes on nation branding, the political economy of urban redevelopment, corruption and injustices involved in large-scale urban projects in Tashkent and across Uzbekistan. Currently, Dilmira is working on her PhD thesis at Ulster University in the United Kingdom.
Further Readings
Further details on the methodology underpinning this project can be found in the following publications:
Lasslett, K. (2019). Conflicts of Interest and Transparency in Mirziyoyev's Uzbekistan, London: International State Crime Initiative.
Lasslett, K. (2019). Расследуя Развитие Недвижимости, Мегапороекты, Захват Земель и Добычу Ресурсов: Методическое Руководство для Сообщества, London: International State Crime Initiative.
Lasslett, K. (2018). The Crimes of Urbanisation: Researching Corruption, Violence and Urban Conflict. Abingdon: Routledge.
Lasslett, K., Kanji, F., and McGill, D. (2017) 'A Dace with a Cobra': Confronting Grand Corruption in Uzbekistan, London: International State Crime Initiative
Lasslett, K. (2017). 'Uncovering the Transnational Networks, Organisational Techniques and State-Corporate Ties Behind Grand Corruption: Building an Investigative Methodology', International Journal for Crime, Justice and Social Democracy, 6(4), 29-54.